I love choice boards! They are an amazing differentiation tool to meet the needs of all of my learners while simultaneous providing choice and student ownership.
Choice boards can be integrated across the curriculum. Check out this Fraction Enrichment Choice Board I used in my own 5th grade classroom: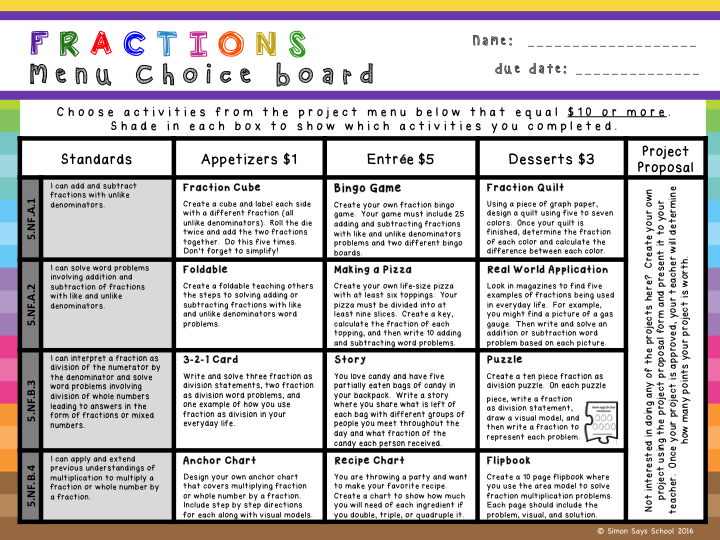 Each choice board is adaptable to meet the needs of your classroom and/or unit of study. There might only be enough time for students to complete a couple of activities, so you may choose to have kiddos choose activities in a 3-in-a-row format. Or you can assign a point value to each activity and learners have to complete a predetermined amount of points to receive full credit (i.e. choose activities total 10 points or more). Other teachers might assign all of the activities to be completed. It is completely up to you based on what works best for you and your students!
DIGITAL CHOICE BOARDS
Integrating technology has become an essential element in many classrooms and many classrooms are mandated to integrate more digital learning by their districts or states. My district has adopted Google Classroom as the primary means to expose students to online learning. In order to continue to provide differentiated learning opportunities for my students based on their readiness, interest, and learning profile, I created digital choice boards using Google Slides.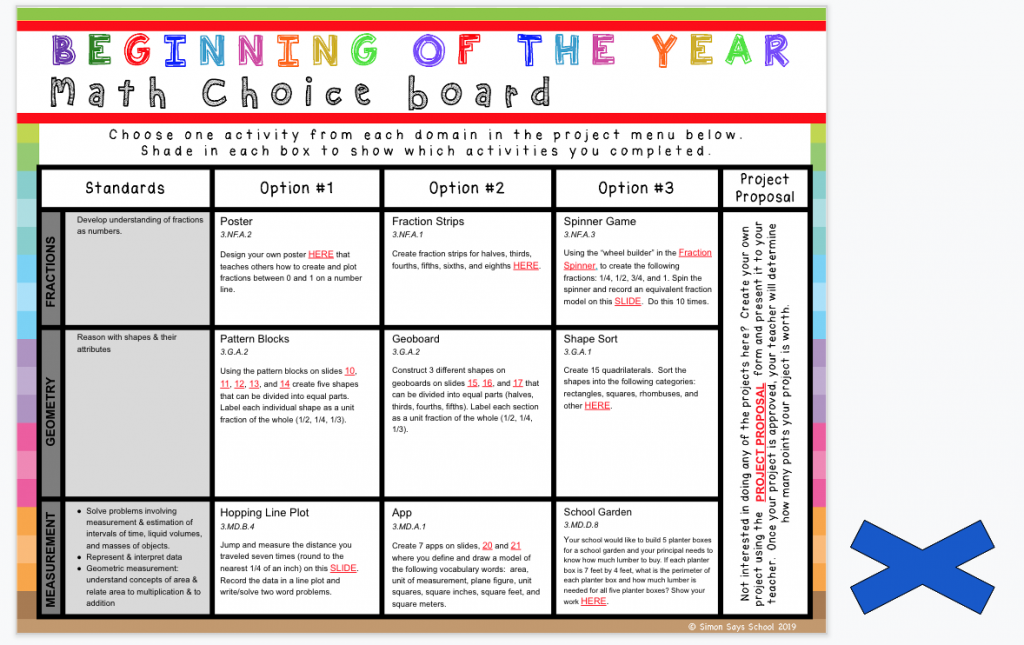 The activities are completely paperless and involve using technology tools for students as they show their understanding of the topic of study.
In the 6th grade activity below, students follow the hyperlink to an external website where they create their own digital fraction dice to complete the activity!
These boards also allow teachers to integrate activities that tap into each student's multiple intelligences and learning styles. Recordings, diagrams, typing, and a variety of digital creation tools allow students to fully maximize their learning potential and finally allow teachers to utilize the amazing technology made available by their districts!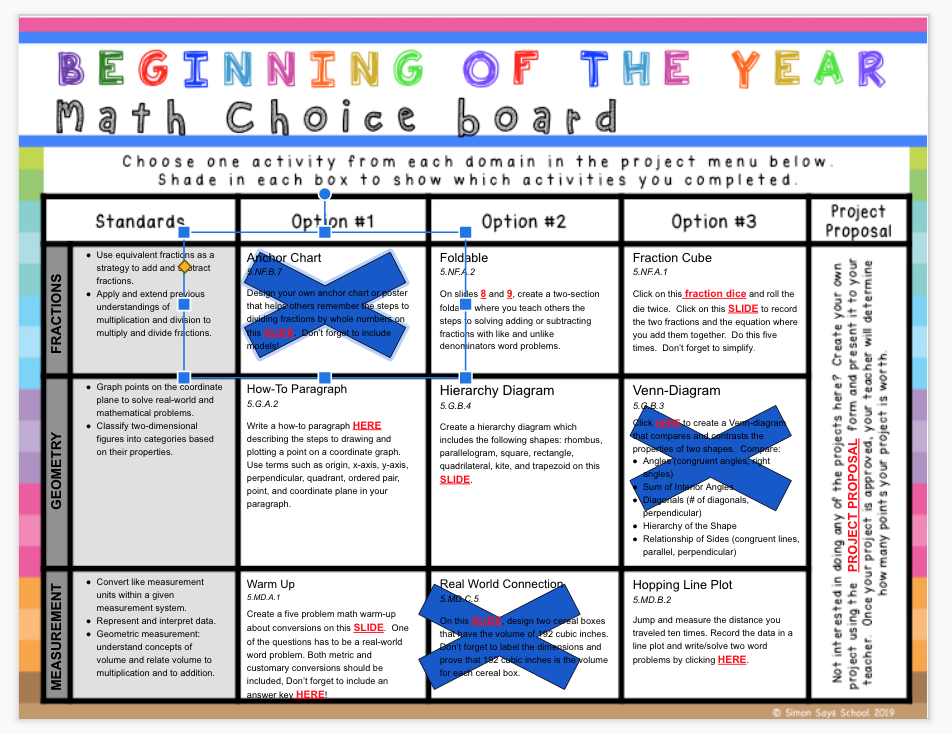 If you are considering using digital learning menus in your classroom but are unsure if it is a good fit, here are five reasons why you should make the switch:
Reason #1
Each choice board can be modified based on your students' interests and readiness. Create text boxes for each activity option in your boards so that you can rearrange, swap out, or modify the activities so they are different every time.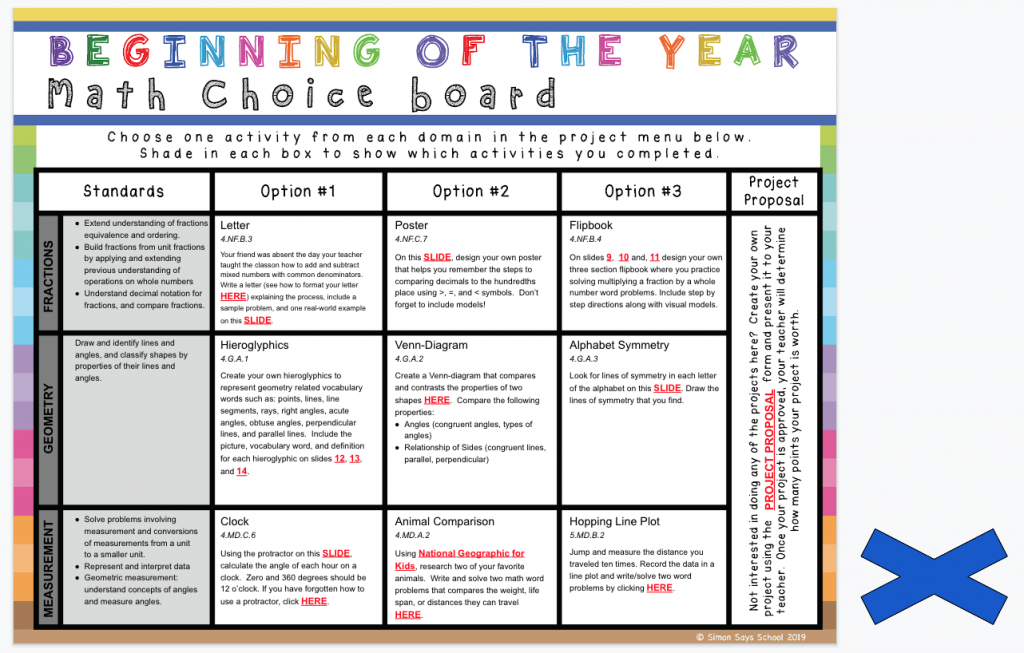 This will allow you to make changes for those students who need enrichment or for those who require IEP/504 accommodations by making quick changes to their assigned menus. You can also provide additional technology tools or links that will help these students be successful in meeting their individualized goals! Here is an example activity from my EDITABLE 4th Grade Digital Interactive Beginning of the Year Math Choice Board that includes a description of the project, a link to the tools needed to complete the activity, as well as editable text boxes to make changes/adjustments as needed.
In this 5th Grade Math Digital Choice Board activity, students have a link to a specific website to find numbers with decimals as well as the tokens needed to identify the composite and prime numbers.
Reason #2
Providing feedback can be a challenge when students are working on their choice boards. However, digital choice boards in Google Drive makes giving feedback so quick and easy. As learners are working on their activities, you can check their progress from your own teacher computer and provide valuable feedback anywhere and at anytime. You could be in a doctor's office, at home on your couch, or even during one-on-one student conferences in the classroom: it doesn't matter. You can access their work whenever it is convenient for you! Check out this scoring rubric from my 6th Grade Beginning of the Year Digital Choice Board.
Reason #3
Of course, digital choice boards allow you to use LESS PAPER! This is not only eco-friendly, but the time you spend making copies can be used for the hundred of other items on your to-do-list. In addition, you won't have to worry about students losing their work, and learners will also have access to their choice boards at home if they have Internet access. This will not only be beneficial for students but it will also help create a strong home/school connection as students easily share their choice board activities with their families.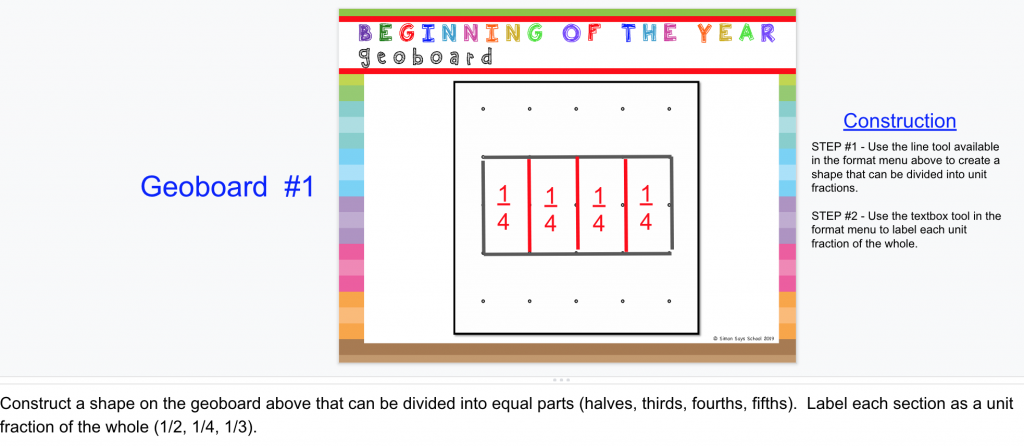 Reason #4
Student work is in ONE place! The boards that I created in Google Slides include the choice boards, graphic organizers for each activity option, as well as the scoring rubrics for both student self-assessment, as well as teacher-assessment. Students are able to showcase their knowledge using a variety of different tools and resources that are intuitive to use and easy to insert into the slide. This provides an easy way to keep kiddos accountable all in one place!
Here are examples of two interactive graphic organizers that have helped me easily monitor the progress of my kiddos: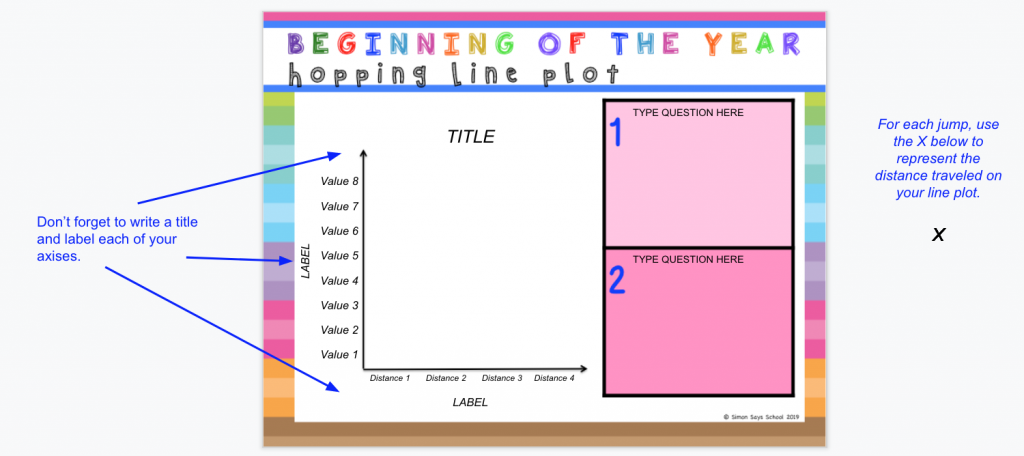 Reason #5
Choice boards through Google Slides is a great way to choose the digital tools and resources students use to showcase their understanding of each standard/skill. By creating hyperlinks to pre-selected websites and applications, kiddos can safely, quickly, and easily access the most appropriate resources for each activity! Here is an example from my 5th Grade Digital Beginning of the Year Choice Board: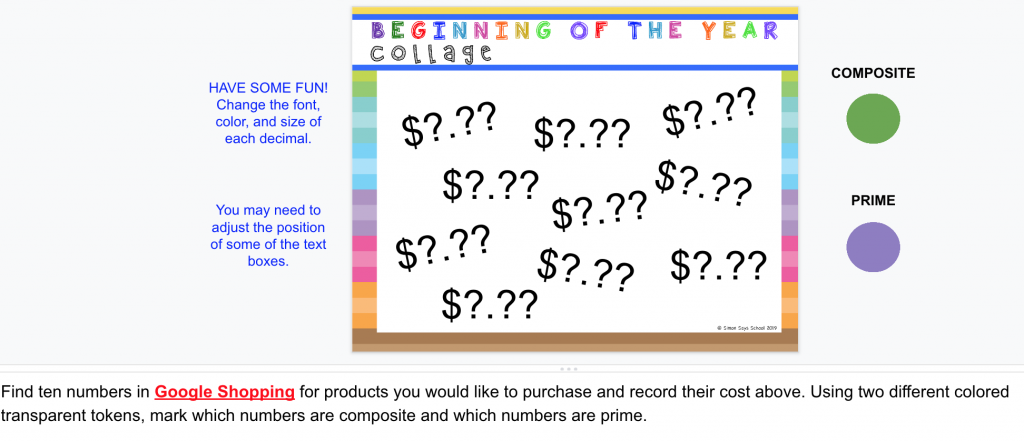 I LOVE LOVE LOVE choice boards!  Creating digital boards with interactive graphic organizers allows me to continue to meet the needs of all of my 21st century learners in a way that is easy, efficient, and beneficial for everyone.
Take a look at some of the EDITABLE digital beginning of the year review choice boards I have created and are available on my Teachers Pay Teachers store: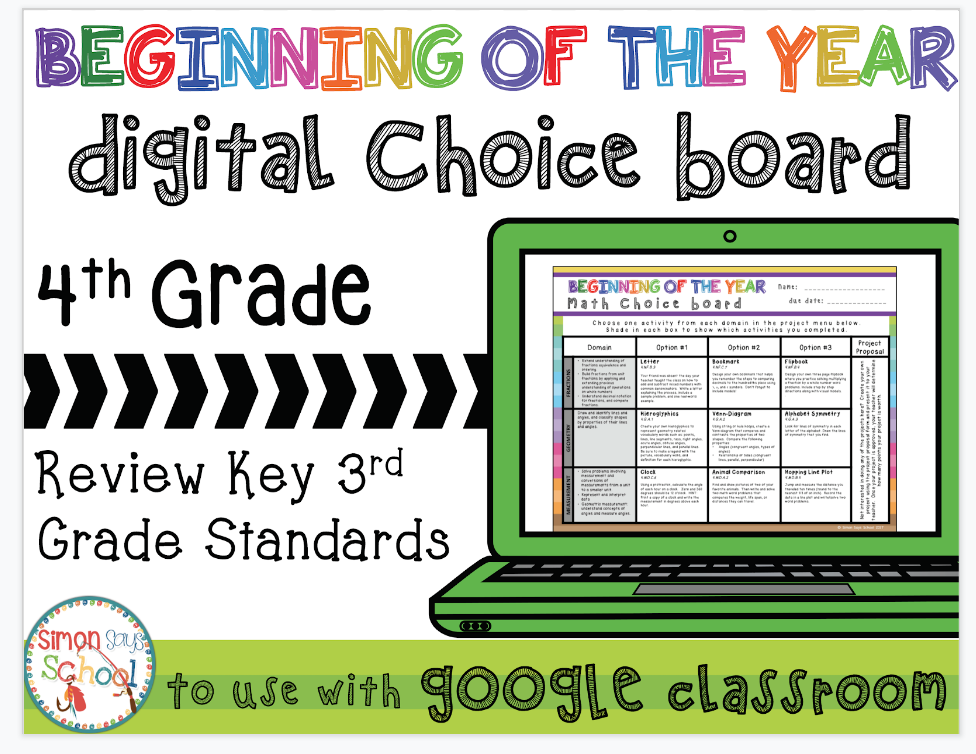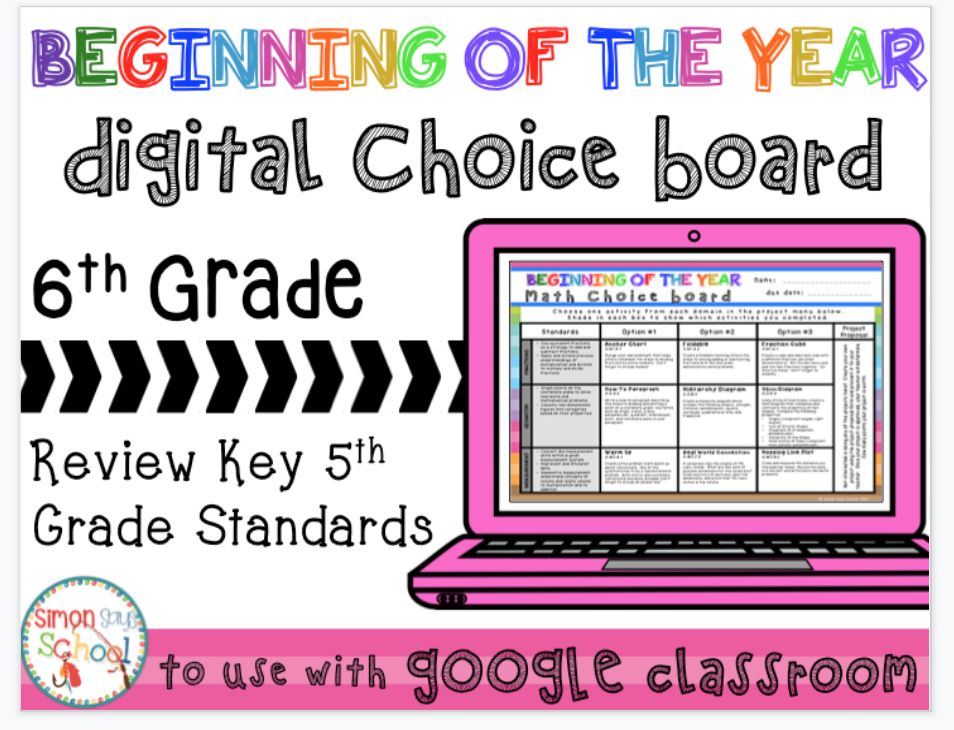 I hope you find these resources helpful and a great addition to your classroom!